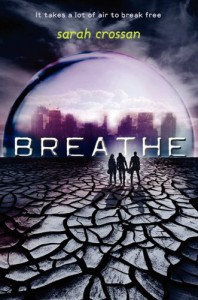 When I first started reading Breathe I was worried that I might not like it. It has some mixed reviews between other bloggers that I follow, and It sounded a bit like something I had heard before. I was so happy when I few chapters in I was hooked and didn't want to stop reading till I was finished! The characters in Breathe were wonderfully written. Quinn and Bea are so different, which makes their friendship even more interesting. Alina wasn't my favorite character but I think it could have been just a personal opinion, she didn't hold my attention.
What brings my rating just shy of a 5 star one was the multiple POV's. Two I can handle, and even enjoy most of the time, But 3 was overwhelming. In the beginning of the story I would have to stop every once and awhile and figure out which character I was reading the POC of, Bea or Alina? It wasn't that their characters weren't different, I just got caught up in the story and didn't always notice the switch in POV's. The story was well paced, never too slow or too fast and I was always wanting to know what was coming next.
The concept was really interesting and kept me thinking. How would I handle not being able to breathe freely? Is my body strong enough to handle life outside of the dome? what would it be like to be overfed oxygen? Breathe was a engaging story that had me on my toes and had brain working.
I would highly recommend it to readers who enjoy dystopias and survival storys. Who enjoy strong characters and relationships that have rocky moments. Who like to THINK about what they read.
To read more of my reviews please visit http://thepassionatebookworm.blogspot.com